Getting fit and healthy is not complicated, we need to move, get active and what better way than walking. This exercise challenge is going to help us be more active by walking more & taking more steps.
The Challenge
This challenge has been adapted from the Step It Up June Challenge. In this challenge we'll be increasing the number of steps we do slowly but surely, you can check the target each day and hit your goal. You'll need to start finding more ways to be active such as parking further away from your destination, walking whenever you can and taking the stairs.    Your daily step target in this challenge should be considered a 'minimum' if you hit it, excellent but keep on stepping!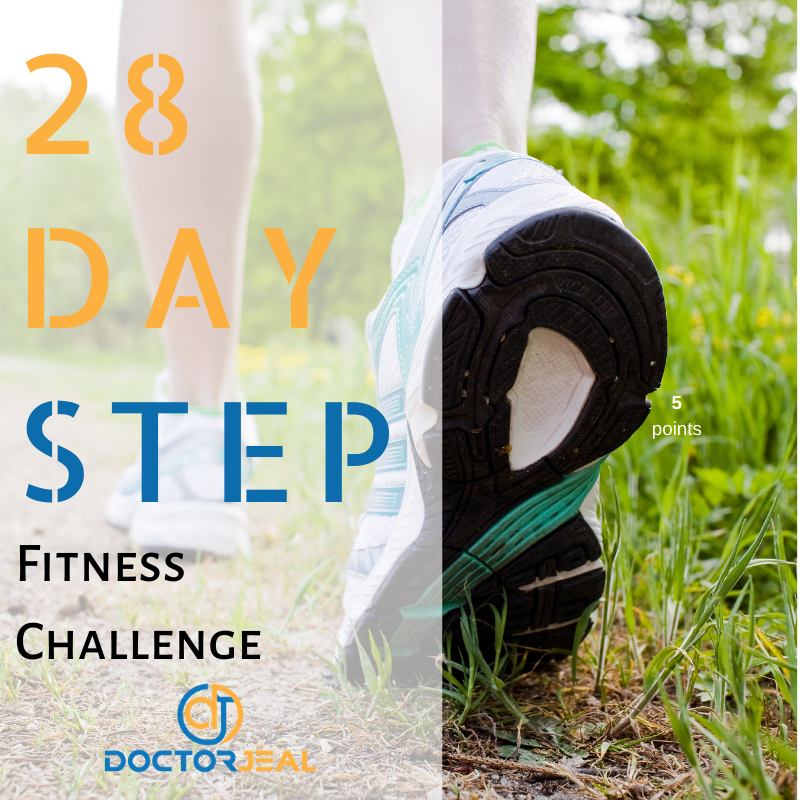 Go from sedentary to very active; this challenge starts in the sedentary range which most people will be able to achieve without much additional effort.
By the end of the challenge, you'll be in the range where very active people are considered to be. So get that pedometer out and get stepping.
How to take part in this Challenge
How to Track your Steps
Tracking your steps is relatively simple, there are many step tracking devices and activity tracker on the market, including Fitbit and Apple watch and many others. Don't worry if you don't have an activity tracker, smartphones do a decent job of tracking steps, you just need either Apple Health or Google Fit installed and it will use the accelerometer in your phone to track your steps, of course, you will need your phone on you for it to work. Alternatively, you can purchase a cheap pedometer for around £10, many are available at Amazon.co.uk.
Smart Watch
Activity Tracker
Smartphone
Pedometer
1. Smart Watch
Undoublty the best way to track your steps is with a smartwatch, you will get up to date steps via your smartwatch and automatically syncs to give you detailed reporting of not just your steps, but calories burned and even heart rate. Popular options include Apple Watch or Samsung Gear.
2. Activity Tracker
Activity trackers allow you to track your steps constantly via a small device, either clipped to your clothing, bra or worn around your wrist. Trackers such as Fitbit or Garmin will sync to their native apps or 3rd party tracking app allowing accurate tracking of your daily steps. 
3. Using your smartphone
Your smartphone is equipped with technology to track your steps without the need for a dedicated activity tracker, Apple iPhone and Samsung Galaxy devices plus many others will enable you to track your steps using Apple Health or Google Fit respectively.
4. Pedometers
Basic but they do the job just fine, you can pick one up on Amazon for under £10, and even the best ones won't cost much more than £20.
What is your Current Activity Level
This exercise challenge has progressions depending on your current exercise and activity level, if you a new to exercise and sedentary, you will be fine to start on the base level target guides. Read the statements below to see which activity level you are and therefore which challenge targets you should follow.
ACTIVITY LEVEL
ACTIVITY LEVEL
MULTIPLICATION FACTOR
Sedentary
You lead a sedentary
lifestyle with little to no
regular exercise or activity.
none
Mild Activity Level
You undergo Intensive
exercise for at least 20
minutes 1 to 3 times per
week.
If you do not exercise
regularly, but you maintain a busy lifestyle that requires
you to walk frequently for
long periods,
you meet the requirements of this level.
1.375
Moderate Activity Level
You undergo Intensive
exercise for at least 30 to 60 minutes 3 to 4 times per
week.
1.55
Heavy or (Labour Intensive) Activity Level
You undergo intensive
exercise for 60
minutes or greater 5 to 7
days per week and/or you
have a labour-intensive job
also.
1.7
Extreme Level
You are exceedingly active
and/or very
participate in demanding
activities:  
Examples include athlete
with an almost
unstoppable training
schedule with multiple
training sessions
throughout the day very a
demanding job, such as
shovelling coal or working
long hours on an assembly
line.
Generally, this level of
activity is very difficult to
achieve
1.9
Challenge Design
Scoring the Challenge
The 28 Day Step Challenge is split into five levels for which you can score your progress; you don't need to keep to one level, You can mix & match and go up or down a level. Each level has a score associated with it, use the free-scoring sheet available for download below to track your progress and tally your total score for the month. You will score yourself either 1,2 or 3 points depending on which level you achieve, that's a maximum of '5' per day, minimum of '1' unless you skip a day in which case it would be '0'.
Download the 28 Day Stepping Challenge Scoring Sheet
Scoring sheet to be used with the 28 Day Step Challenge …
Target Guide
Download, print off and keep the guide handy, pin it to your fridge and check your step target for the day.
Daily Target Guides