Welcome to the 28 Day Spotty Dog Exercise Challenge, this daily challenge features the Spotty Dog Exercise, in my opinion; an underutilised exercise. It is a full-body movement that recruits multiple muscle groups, and it gets the heart going & burns calories. It's simple yet effective and is much harder than it looks. You won't see many challenges for Spotty Dogs because they aren't seen to be 'tough enough, however. We can assure you these little switch jumps are a full-body metabolic exercise. 
This challenge has been adapted from my SpottyDog May Exercise Challenge, now you can start it whenever you like.
This challenge is progressive, and the daily target will challenge you throughout the month, but most importantly it will keep you moving and get you into the habit of exercising regularly. You can do this challenge in your PJ's. However, you might want to put a sports bra on! Follow the daily target level this May and stay active and kick-start losing those last few pounds before summer.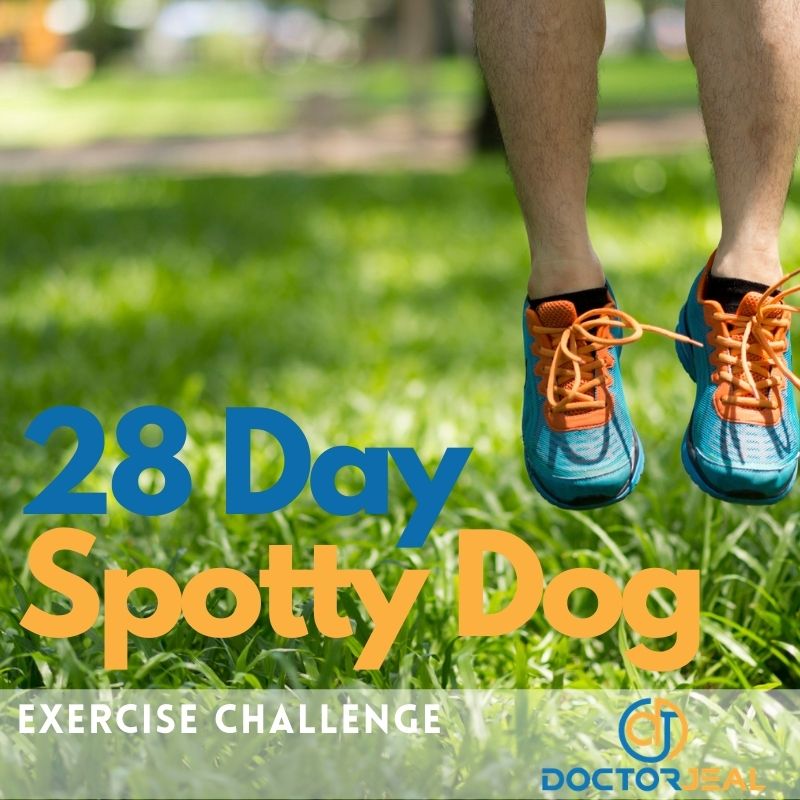 About the Challenge
The Spotty Dog challenge has been set out as a periodized pyramid with reps going up, falling and returning higher than the previous high. This programming helps us build endurance within our training, and it's an excellent way to demonstrate prioritisation programming. The chart below clearly shows the periodized pyramids of the challenge as it progresses through the month.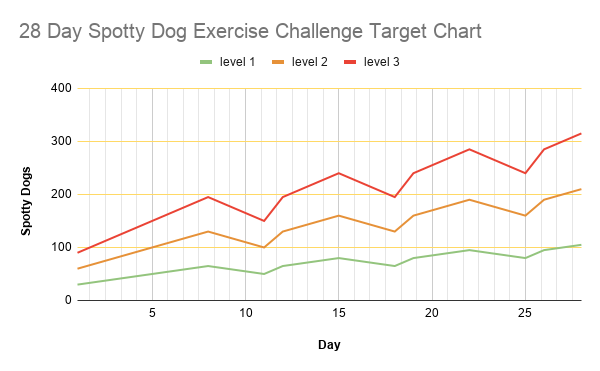 What is a Spotty Dog?
The Spotty Dog exercise is a variation of a Jumping Jack (Star Jump) perform in the sagittal plane as opposed to the frontal plane and includes an alternating arm/leg action for a full-body metabolic exercise. The exercise starts with your feet in a split stance and consists of switching from this position to the opposite while arms follow in a forward/backward movement within the sagittal plane.
Warm Up as you go
It's important to warm up however for this quick challenge there is no need for a lengthy warm-up, just start the first 20 reps or so at a steady pace until warm and pick the pace up if you feel comfortable.
Scoring the Challenge
The challenge is split into three levels for which you can score your progress; you don't need to keep to one level, You can mix & match and go up or down a level. Each level has a score associated with it, use the free-scoring sheet available for download below to track your progress and tally your total score for the month
You get either 1,2 or 3 points depending on which level you achieve, that's a maximum of '3' per day, minimum of '1' unless you skip a day in which case it would be '0'.
Download 28 Day Spotty Dog Challenge Scoring Sheet
Scoring sheet to be used to track the 28 Day Spotty Dog Challenge …
28 Day Spotty Dog Challenge Target Guide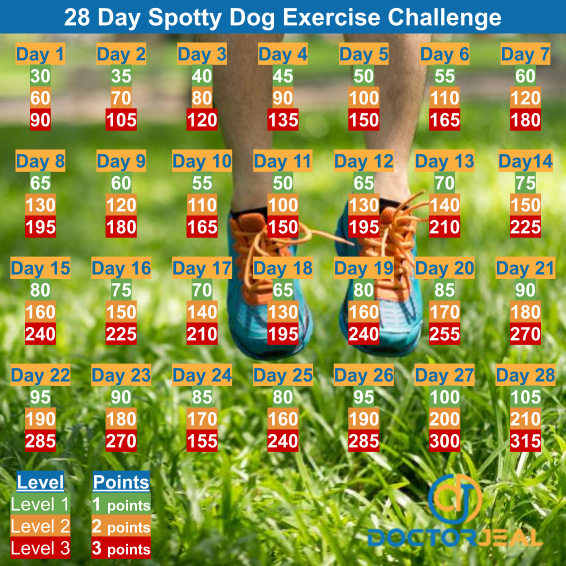 Exercise Guide
One rep of the Spotty Dog exercise is a complete back and forward movement, essentially you count either when your left, or right foot returns to the front as one rep.
Start in an upright position with core active, looking forwards. Stand with feet in a split stance one foot forward and one foot back.
Your arms and legs will work in opposites and will feel like a natural movement. 
Switch your feet from front to back while raising your arms up to about shoulder height.
Keep your core active throughout, keeping upright with good posture and neutral spine alignment.
Arm & Leg Sync
Here we have explained to perform this exercise with an alternate leg to the arm. However, this is not essential, Try the exercise and see what rhythm is most comfortable for you, as long as it feels comfortable and you can perform the activity safely, that is fine.
Warning
This challenge and exercise are unsuitable if you have bad knees, hips or recently had surgery in these areas.
If at any point you feel pain, you should stop immediately. If you are unsure about taking part in a regular exercise programme or activity, you should first consult your GP