Title: Worlds Toughest Race: Eco-Challenge
Date released: August 14th 2020 (UK)
Background info: Follow 66 teams taking on the eco-challenge across Fiji.
Cast: Bear Grylls
Director: Sue kim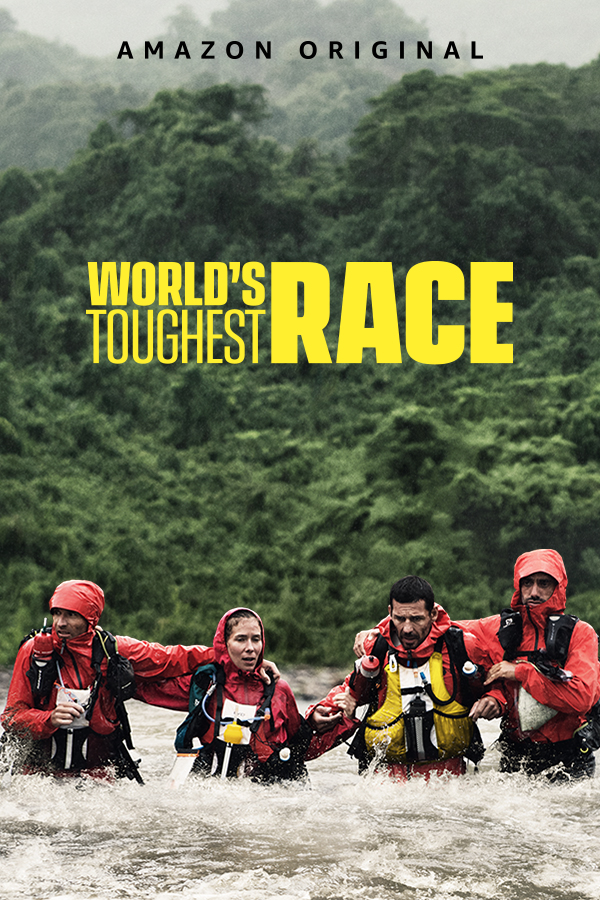 Summary
Follow 66 teams from across the globe as they pit themselves against 'The World's Toughest Race' in the Eco-Challenge. Hosted by Bear Grylls, iconic for adventure and extremes, these teams endeavour to complete the gruelling course by boat, trekking, climbing, mountain biking, paddle boarding and more. Set in Fiji which is truly beautiful yet unforgiving to the adventure racers that dare to challenge the World Toughest Race.
Over 11 days the Elite teams compete for a podium place while the remaining teams battle their endurance and willpower to finish.
I have reviewed this series because it's something that is right up my street, i've spent many years hiking, kayaking and climbing. I studied outdoor education and university. I have even met Bear Grylls a couple of times at talks and book signings. One of my motivations for reviewing these series was that it's defiantly something I would like to see more of, there is not that much out there for these type of thing and it would be a massive boost to the outdoor event industry.
Production
Produced by the creator of Survivor 'Kim Sue' and hosted by the infamous Bear Grylls, the show offers an insight into the world of adventure racing while bringing to the surface the motivations and stories behind the competitors.
Bear Grylls has hosted other reality type adventure and survival shows in the past with the popular 'The Island with Bear Grylls' including celebrity versions. Mission Survive and Running Wild with Bear Grylls are others and the interactive You vs Wild series.
Format
The coverage of the race takes you from stage to stage as teams pass checkpoints, racing against the clock. The host 'Bear Grylls' checks into various camps and checkpoints. Unlike coverage of most races this is all about taking part and the journey each team takes to prove they can complete the challenge.
There is no doubt about it, that this is a sport and elite teams are competing for podium places, however, thankfully the coverage is focused across all teams all with their unique story and motivations. It's easy to watch this kind of programme and say' I could do that'! The difference is, these guys are doing that!
Bear Grylls is well-known from his television work in the UK and I would imagine less know across the pound in America and in other countries. This show is targeted a global audience backed by Amazon Prime which has put it on the world stage. The format works incredibly well, I have no doubt we will see more of this type of sports coverage on major platforms.
Observations
One thing that came across in viewing this that I imagine not many other reviews will pick up on is the extensive use of villages that are travelled through and used as base camps. Why is this important? Well, it's bringing essentially 'tourism; to their doorsteps. Contestants are able to purchase food, supplies, hire donkeys and porters. I thought this was great.
Fijians are incredibly friendly and hospitable as I found out when I was travelling back in 2001 and I was kicking myself a little bit watching it wishing I'd ventured more of the beaten track and visited some of these incredible villages.
Incredible marketing
The series happens to be an incredible piece of marketing, go to the eco-challenge website (https://ecochallenge.com) and you will see registrations are taking place for the 2021 version of eco-challenge in Patagonia. And with registrations open from 15th August until 20th August, The series was released on the 14th August. Off-course The show has no doubt been shot and edited to fire us up to want to give it a go (although many won't), those that do are inf or the ride of their lives. What an incredible marketing campaign.
Was Bear needed?
Possibly not, however, what he bought to the table was the fact that this is him to a tee. He has been in all the situations the contestants will find themselves in and he also brings a fairly large fan base.
Conclusion
It is difficult to feel what these guys feel, But! I could feel it. It's so difficult to grasp what an adventure team goes through in 11 days but this gets you very close. Dropping in. to the hearts, motivations, injuries, struggles and mental well-being os these adventures is what has been achieved.
I loved the fact the coverage was focused on all teams and their sheer determination to finish, something that's inside all of us. If it only covered the top three teams, it would have been rather dull, although not without their struggle it much easier for the audience to resonate with the bulk of the teams just trying to get around, that's where the real adventure is. Not knowing if you can do it. Once you know you can do it, it becomes. a sport judged on time and place.
The story based approach brings out each teams passions for taking part while admiring the Elite teams pace and performance. At a time when events are going through a brick wall, it's a breath of fresh air and hope to getting back to any physical event next year.
I'd like to have seen more details on the routes, team places and timings to add a bit more 'sport' as well as insights and behind the scenes, I mean it must have been a tough event to organise, let alone to take part in it.
Regardless if you are in tot his sort of thing or not, it's a damn good watch.
Watch Worlds Toughest Race on Amzon Prime
Head over to Amazon Prime and sign up for a 30 day trial to watched all episodes.
Wanna take part?
More info on the eco-challenge can be found here – https://ecochallenge.com/