So, you are looking to spice up the Burpee and I have 28 variations for you to try. The burpee, you would think would more than enough but there comes a point through natural progression and sport-specific training when adapting it not only adds variety but keeps us on our toes (literally).
I'm love to see exercise variations and whenever I see one on Instagram, I save it. Here is that saved list of 28 Burpee variations.
Ever wondered why it's called a burpee? Click and find out.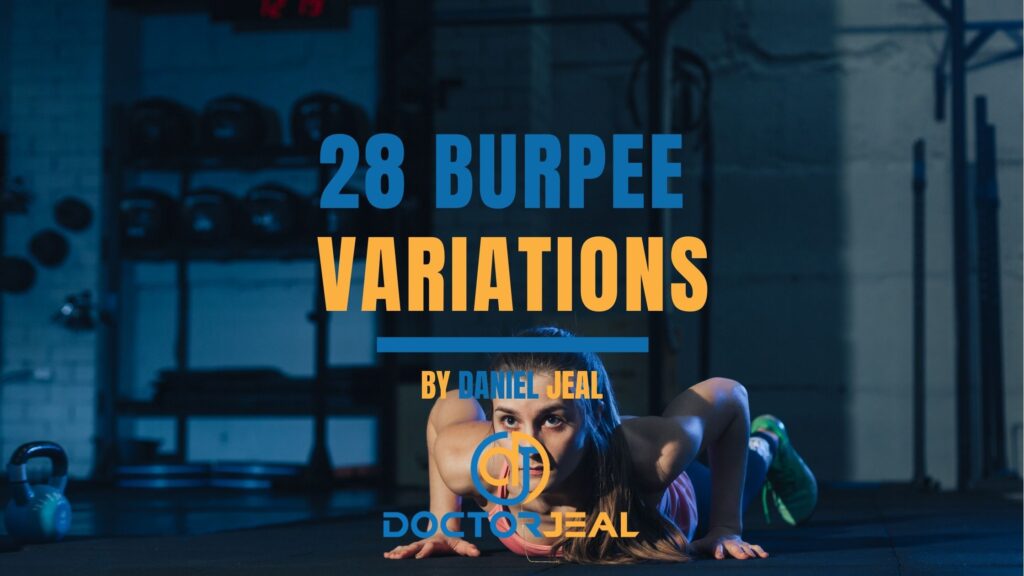 The burpee features in my February Burpee Challenge, called #FEBURPEE (see what I did there?). It has 3 levels and 3 standard burpee variations to choose from. Check it out and join in via this link. Or if you want to start a 28 Day Burpee challenge anywhen. Check out my 28 Day Burpee Challenge.
What is a burpee?
A functional metabolic exercise, that combines exercise patterns from some core exercises. Starting with a SQUAT to the ground and a double footed kick-back (SQUAT THRUST) to a Push-Up or to the floor and then double foot jump back (SQUAT THRUST) and a jump with feet of the ground to finish. Phew, it's exhausting just talking about it.
You can see it is a very dynamic exercise and if you check out my post on Why is it called a Burpee?. You will understand it was actually developed as a fitness test, anyone that has done a Burpee will know it is indeed very testing!
The 28 Burpee Variations
This by no means is an exhaustive list, but it's a pretty good start and I really like some of these variations. If you find others, please do comment with your suggestions.
1. Low Impact Burpee Flow
2. Walking Burpee
3. Burpee Frog Jumps
12. Single Leg Burpee to Knee Drive
14. Burpee into Back Extension
16. Single-Leg Reverse Burpee
18. Forward to Reverse Burpee into Boat Pose
19. Power Burpees with a 90-degree turn
20. Mountain Climber Burpee
21. Forward and Back Burpee
25. Wide to Narrow Burpee
28. Lateral Bench Jump Burpees