The plank exercise is a very common exercise for anyone at any level or ability, it is also easily adapted and there are plenty of variations that can be applied, making the exercise more challenging and enabling more specific training. I've put together a list of just some of the many plank variations.
A plank exercise is a bodyweight exercise that targets the core muscles of the body, including the abs, back, and hips. It is performed by holding the body in a straight line, supported by the hands or forearms while resting on the toes. To perform a plank:
The traditional forearm or straight-arm plank can be performed as described below;
Start by getting into a prone position on the floor, with your hands resting on the ground beneath your shoulders.
Lift your body up off the ground, so that you are balancing on your hands or forearms and toes. Keep your body straight, with your head, hips, and heels in a straight line.
Hold this position for as long as you can, maintaining proper form and keeping your core muscles engaged. You can make the exercise more challenging by adding movement, such as lifting one arm or leg off the ground, or by increasing the duration of the hold.
Planks are a great exercise for strengthening the core and improving posture, and they can be modified to suit any fitness level.
Find your next Plank Variation
The great thing about the plank exercise is that it is very easy to adapt in order to achieve progression or regression within the exercise, stimulate additional muscles and raise the level of balance required.
The plank variations in this list are all bodyweight plank variations and do not require the use of any additional equipment. I've scoured YouTube to find some of the best examples of these exercises, and I've spent a good deal of time selecting the best ones with good technique. Therefore, the models and trainers providing these demonstrations are no doubt worth a follow.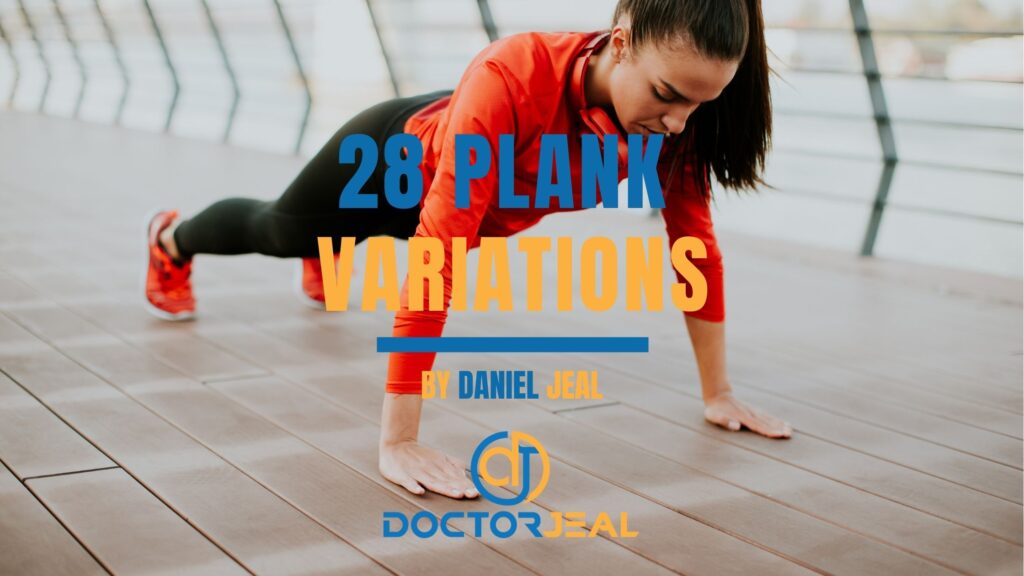 The plank is a staple of fitness exercises, training core stability and pretty much every other muscle. It is often surprising how staying still can be so challenging and so effective.
What is a Plank?
The plank exercise is a simple isometric, that is static. Your muscle works together to hold the desired form of the plank exercise. A perfect bridge from your toes to your forearms, a straight line should be able to be drawn from your heels through your knees, hips to your shoulders.
The above description describes the classic Forearm Plank exercise however you are about to discover a whole bunch more.
28 Plank Variations
View all videos in this playlist on YouTube
#2 Plank with Alternate Knee Down
#4 Forearm Plank with Shoulder Taps
#8 Straight Arm Plank with Shoulder Taps
#9 Straight Arm Plank with Alternating Leg Lift
#10 Straight Arm Plank with Knee Taps
#11 Straight Arm Plank with Knee Tuck
#13 Round the Clock 3 Point Plank
#16 Straight Arm Side Plank
#18 Side Plank with Reach Under
#20 Side Plank with Leg Abduction
#23 Forearm Reverse Plank
#24 Straight Arm Reverse Plank
#25 Table Top Reverse Plank