Have you suddenly found yourself working from home? Restricted to one form of exercise a day? Are you struggling with your daily exercise routine with no access to a gym? Then incorporating these 5 key exercises while working from home might really help.
Your ability to exercise how would you like on a daily basis has been severely impacted, yet all is not lost. The solution is a return to basics with at-home bodyweight exercises.
In this article, I will provide a starting point of what can be achieved with no equipment with 5 exercises you can do while working from home.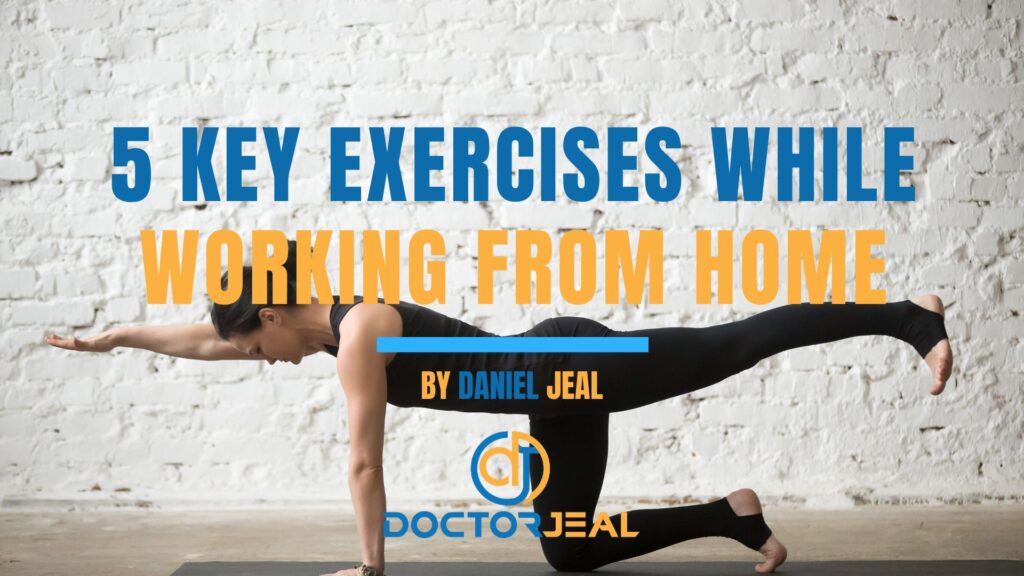 Exercise is more important than ever
In a normal world, your workday even if you do work in an office has a moderate amount of activity built-in. Despite the fact that you are sitting for the majority of the day, the workday itself is not without active movement. Consequently, this keeps most of us afloat when it comes to raising our step count.
It is hard enough when we are not in lockdown to find the time and motivation to exercise. Add in the limitations of one walk a day, no active travel, no walking to the bus stop and the office, no climbing the steps to your floor, no breaks and walks around or even outside and we are left with an ultra sedentary lifestyle. As a result, all activity has been stripped from even what would be considered a sedentary lifestyle.
The result is not good. Certainly not for an extended amount of time. Therefore we must do something about our activity and exercise levels.
long periods of sitting creates muscle imbalances
Sitting for 6-8 hours a day is not good for your posture, mood. or mental wellbeing. This is why it is essential you take breaks away from the computer, don't eat lunch at your desk and make time to exercise.
The effects of a long period of sitting include shortening of your hip flexors, hamstrings and calves. This ultimately affects posture encouraging a posterior pelvic tilt creating an exaggerated hollow in the lower back and rounding of the upper back known as kyphosis.
To combat these effects it is important to adopt a daily stretching and exercise routine to return muscle imbalances to neutral.
Do these 5 Exercises while working from home
A well balanced and full-body workout is possible without any equipment and not only will these exercises help with your posture, but they will also help you adopt a daily exercise habit.
Workout
The 5 exercises below provide a great opportunity to rebalance tight muscles, and they provide a good all-over workout in general that will get you moving and using the full range of movements, functional and effective. An excellent workout if you have found yourself working from home.
Perform 2 to 3 sets of 14 to 18 reps
Sumo Squats
2. Standing Walkouts
3. Hip Press
4. Donkey Kicks
5. Good Mornings
Just the start
At the time of writing, COVID-19 has already changed life as we know it, there are massive changes in the way people are exercising. From personal trainers delivering online sessions and group exercise instructors working out with their local community and beyond. To sports coaches and teachers delivering dance, gymnastics and soccer coaching sessions.
I encourage you to seek out your local group exercise instructor or personal trainer (and it is important to keep it local). Contact your dance, soccer and gymnastics clubs and ask how your children can join online coaching sessions. And benefit from much-needed structure and routine for your family.