Tabat-what! Yep, Tabata. An intense form of interval training with little rest, get ready for a full-body Tabata workout. The timings are 20 seconds work, 10 seconds rest for 8 rounds to form a 4-minute Tabata round.
Try this no equipment home workout and get that heart rate up for a quick 30-minute blast, ideal to kick-start the day or for a high energy lunch break.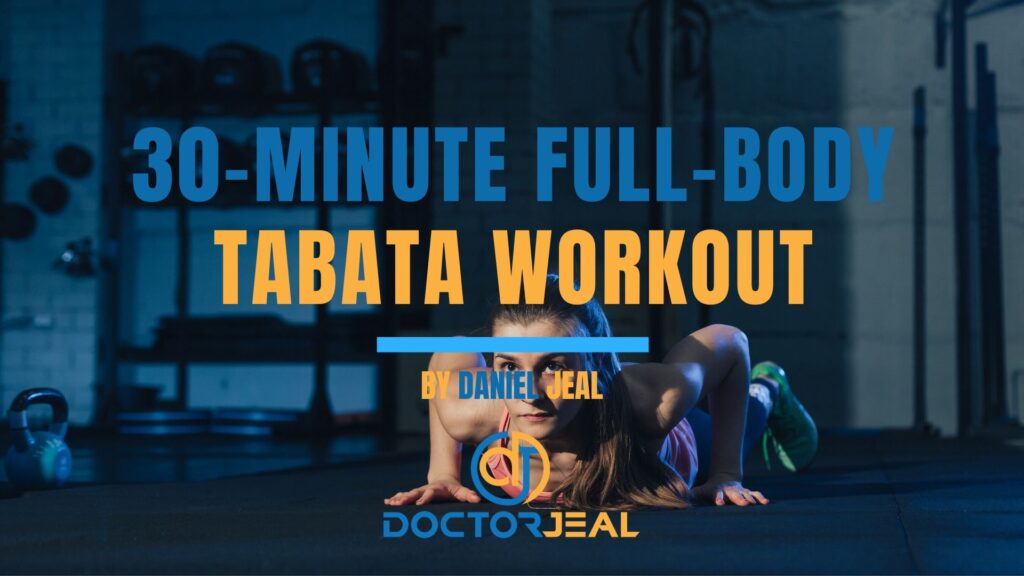 Equipment Required
The Tabata Workout
There are 4 Tabata rounds in this workout with a 2 minute rest bewteen rounds.
Full-Body Tabata Workout –

Round 1
Stabilisation and core tabata round.
20 seconds work, 10 seconds rest x 8
Plank with Shoulder Taps x 20 seconds
Plank with Knee Taps x 20 seconds
Plank Up/Downs x 20 seconds
Spiderman Planks x 20 seconds
Plank with Shoulder Taps x 20 seconds
Plank with Knee Taps x 20 seconds
Plank Up/Downs x 20 seconds
Spiderman Planks x 20 seconds
REST FOR 2 MINUTES
Full-Body Tabata Workout –

Round 2
Compound and legs tabata round
20 seconds work, 10 seconds rest x 8
Lateral lunge Stomps (LEFT) x 20 seconds
Lateral lunge Stomps (RIGHT) x 20 seconds
Forward lunge Stomps (LEFT) x 20 seconds
Forward lunge Stomps (RIGHT) x 20 seconds
Step Back Lunge to Knee Drive (LEFT) x 20 seconds
Step Back Lunge to Knee Drive (Right) x 20 seconds
Lateral Crossing lunge (LEFT) x 20 seconds
Lateral Crossing lunge (RIGHT) x 20 seconds
REST FOR 2 MINUTES
Full-Body Tabata Workout –

Round 3
Cardio tabata round
20 seconds work, 10 seconds rest x 8
Skaters x 20 seconds
High Knees x 20 seconds
Skaters x 20 seconds
High Knees x 20 seconds
Skaters x 20 seconds
High Knees x 20 seconds
Skaters x 20 seconds
High Knees x 20 seconds
REST FOR 2 MINUTES
Full Body Tabata Workout –

Round 4
Core tabata round
20 seconds work, 10 seconds rest x 8
V-Sit x 20 seconds
Knee Tuck Crunch x 20 seconds
V-Sit x 20 seconds
Knee Tuck Crunch x 20 seconds
V-Sit x 20 seconds
Knee Tuck Crunch x 20 seconds
V-Sit x 20 seconds
Knee Tuck Crunch x 20 seconds