This walk starts from the beautiful Culzean Castle, set in beautiful grounds and within easy reach to idyllic beaches, it makes a perfect spot to explore. There are marked walks with the estate for which this walks takes in several of them.
A short and leisurely walk around the estate of Culzean Castle, there are also marked walks mentioned above for which I have done many times with my wife and the dog. I really like this one as it drops down into the bay and you get some great views of the Castle from here.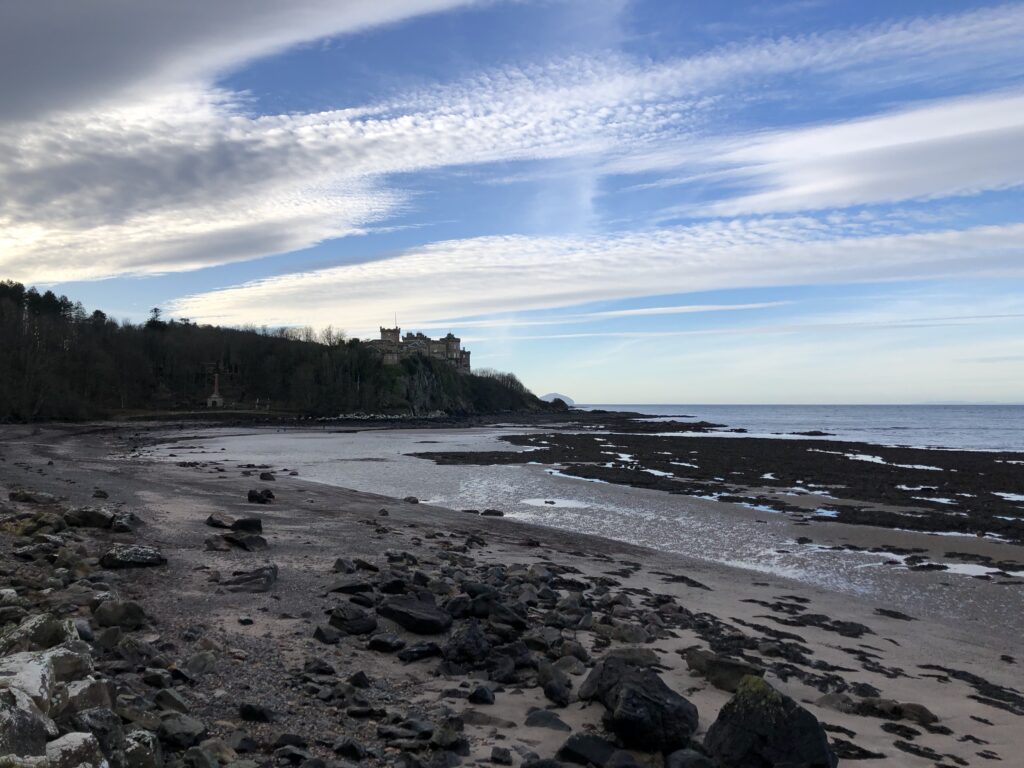 The walk starts at the car park and drops down via some moderately steep steps to the bay, to your right as you reach the bottom you will see a couple of holiday cottages, available for rent if you want a quiet getaway from National Trust for Scotland
Follow the bay, take time to explore and let the dog off the lead for a good run around. At the end of the beach you will climb again back up towards the castle, if you've bought a ticket for the castle it has lots to see (no dogs alowed in the castle).
As you pass the castle keep right and drop down towards the cannons where you will find another set of steps leading down to another beach, at the bottom is an old boat store, once used for the Culzean lifeboat. Follow the bay to the left and along the partly rocky beach and at the end of the bay, you will spot a set of wooden steps dropping down onto the stony beach. Take care of the rocks and ascend.
Upon raching teh top and after catching your breath you will be on one of the main tracks, if you turn imedaly right you will see the old gunpowerd store which then follow round onto the track leading to the Swan Pond. At the fork take the right which leads around the lake and opens up on a large grass area. There is a pay park and toilets and also a cafe here.
Often Swan's father at this part of the lake, stick to the path heading back down the other side of the lake and you will shortly be making a right turn following signs for the Monkey Trail, cross the road and keep going straight (the monkey trail veers of to the left but keep straight) you will hit a large track. Go left and follow towards the deer park. Easily identifiable by the fence and a quick right and left will put you on the track at the top of the deer park. There is a feeding station here and if you are lucky you might also see some deer.
Continue along the track and it will come out at the entrance road you use to get to the car park, cross the road and there is a track that leads back down to the carpark.
Actual walk track via Strava