Great full body metabolic workout using Perhpial Heart action to stimulate a cardiovascular response, getting your heart Peripheral Heart Action circuit, alternating upper and lower body with core exercises to increase heart action across the body and maximise cardio effort through stationary exercises. Focused on quick transitions with the length of TRX grouped together.
What is Peripheral Heart action?
The training technique of Peripheral Heart action involves a training format where exercises are performed in rapid succession and alternating between upper and lower body exercisers increasing heart action circulation around the whole body and making the exercise feel very cardiovascular.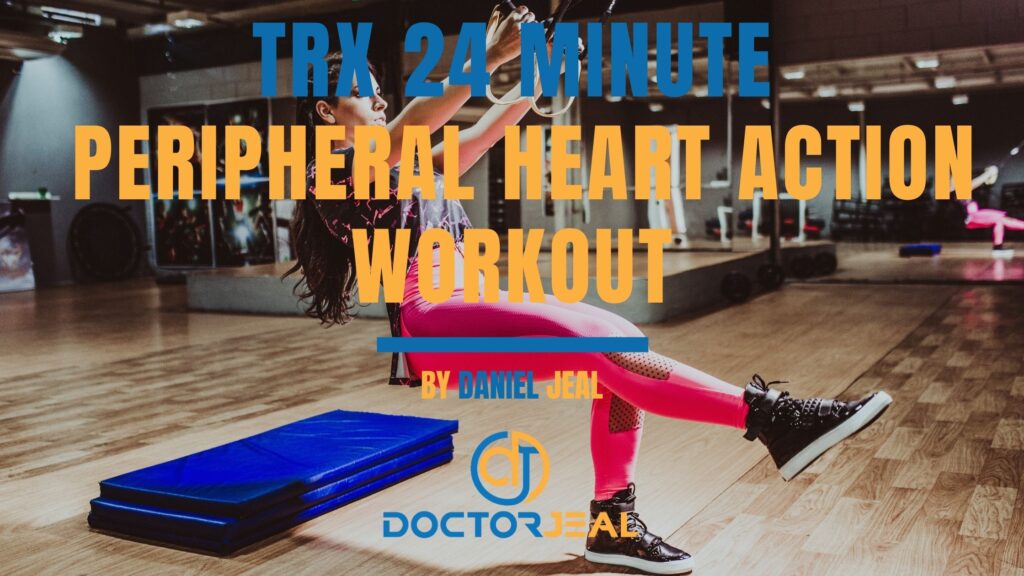 Equipment Required
The links below are sponsored links provided by Amazon.
The Workout
The workout comprises two circuits, best performed one set of each exercise and straight onto the next exercise. Following the Peripheral Heart Action technique with exception to the second circuit where 3 core exercises have been groped together to reduce the amount of time lost changing strap lengths.
Ensure you include a short warm-up and cool down and some example exercises have been included for you, also rest for a 1minute or two between the two circuits with the aim of completing the workout twice as two mini circuits
2 rounds of the following circuit, resty for 2-3 minutes between rounds.
| No | Exercise | Time/Reps | TRX Length |
| --- | --- | --- | --- |
| 1 | TRX Power Pull (Left) | 45/15 | Mid |
| 2 | TRX Power Pull (Right) | 45/15 | Mid |
| 3 | TRX Balance Lunge | 45/15 | Mid |
| 4 | TRX Y Deltoid Fly | 45/15 | Mid |
| 5 | TRX Single Leg Squat | 45/15 | Mid |
| 6 | TRX Torso Rotation | 45/15 | Mid |
| 7 | TRX Sprint Start (Left) | 45/15 | Mid |
| 8 | TRX Sprint Start (Right) | 45/15 | Mid |
| 9 | TRX Triceps Press | 45/15 | Mid |
| 10 | TRX Overhead Squat | 45/15 | Long |
| 11 | TRX Chest Press | 45/15 | Long |
| 12 | TRX Calf Raise | 45/15 | Long |
TRX 24 Minute Peripheral Heart Action Workout Table
TRX 24 Minute Peripheral Heart Action Workout Card
---
Main Workout
TRX Sprinter Start
TRX Triceps Press
TRX Overhead Squat
TRX Chest Press
TRX Calf Raise
---
TRX 24 Minute Full Body Peripheral Heart Action Workout