This Intermediate Bodyweight Metabolic Workout is essentially a no-equipment workout, you will however need access to some kind of bench for the triceps dips however you can easily use the sofa or bed instead.
Excellent for an at-home workout, designed for beginners, it's great for getting started with your fitness journey.
The metabolic part of the workout name simply means that it gets the heart going and feels a little cardio without doing too much cardio. The workout utilises compound bodyweight exercises to create the metabolic aspect of the workout combined with some light cardio-style exercises such as star jumps and heel flicks.
This is a progression workout from Beginner Bodyweight Metabolic Workout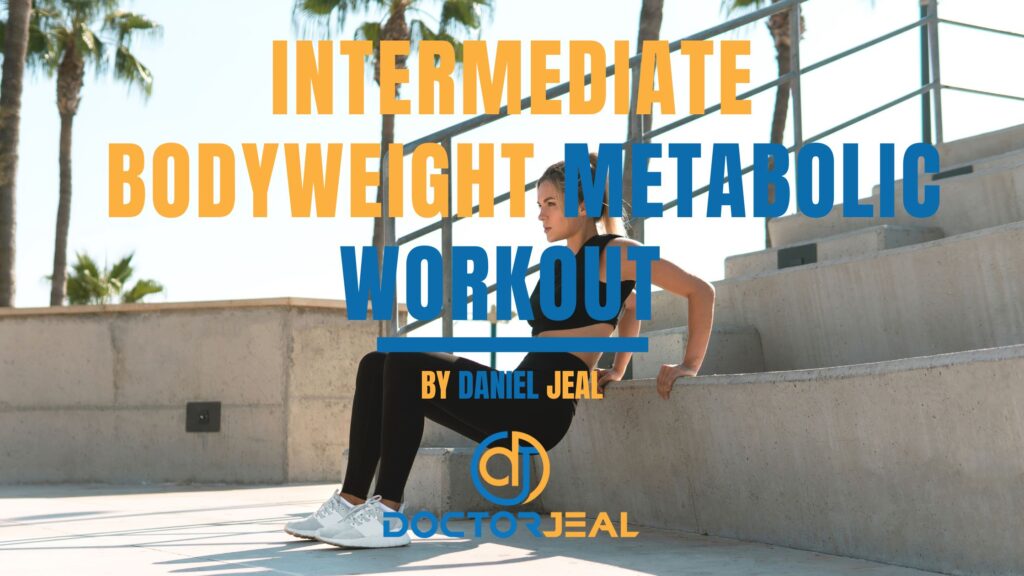 Tips:
Perform each exercise slowly and under control, 2 seconds down, 2 seconds up.
Rest for 30 seconds between sets and exercises
Remember to breathe, do not hold your breath
Beginner Bodyweight Metabolic Workout Table
Standard Set 1
| Number | Exercise | Set & Reps |
| --- | --- | --- |
| 1 | Beginner Burpee | 3 x 15 |
SET 1 Beginner Bodyweight Metabolic Workout Table
Like Burpees? You'll love my February Challenge Feburpee or start anytime with my 28-Day Version
Superset 1 – 3 rounds
| Number | Exercise | Set & Reps |
| --- | --- | --- |
| 2 | Squat | 1 x 15 |
| 7 | Lateral Squat | 1 x 15 |
SET 2 Beginner Bodyweight Metabolic Workout Table
Take Squats to the next level? Try my October Squat Challenge or start anytime with my 28-Day Version
Standard Set 2
| Number | Exercise | Set & Reps |
| --- | --- | --- |
| 1 | Standing Walkout | 3 x 15 |
SET 3 Beginner Bodyweight Metabolic Workout Table
Superset 2 – 3 rounds
| Number | Exercise | Set & Reps |
| --- | --- | --- |
| 1 | Backward lunge | 1 x 15 |
| 2 | Forward Lunge | 1 x 15 |
SET 4 Beginner Bodyweight Metabolic Workout Table
Superset 3 – 3 rounds
| Number | Exercise | Set & Reps |
| --- | --- | --- |
| 1 | Half Push Up | 1 x 15 |
| 2 | Triceps Dips )Straight legs) | 1 x 15 |
SET 6 Beginner Bodyweight Metabolic Workout Table
Push it more with my March Push Up Challenge or start anytime with my 28-Day Version
Intermediate Bodyweight Metabolic Workout Videos
Beginner Burpee
Bodyweight Squat
Lateral Squats
Standing Walkout
Backward lunge
Forward Lunge
Star Jumps
Half Push Up
Triceps Dips (Straight Legs)
Workout Card