Get your metabolism fired u with this full-body TRX interval workout, short on time this week and want to get a full-body blast in well this is the workout for you. Al in all this workout will take around 40 minutes with warm-up and cool down.
I love interval workouts because if you are like me, my mind wonders when I exercise and I forget how many reps I've done, with an interval workout, I just need to wait for the beep on my Gymboss Interval Timer and it's time to rest or switch it up. Simples.
You can find TRX Suspension Trainer's in many gyms and If you've never used a TRX Suspension Trainer before, head to your local gym and try it out. Better yet purchase your own to enable a complete home workout at any time.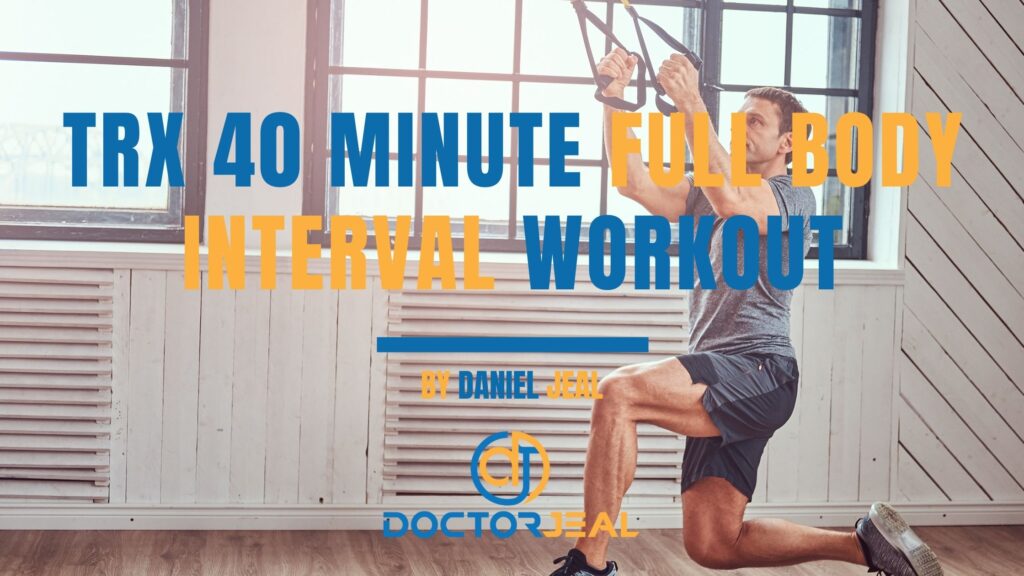 Equipment Required
The links below are sponsored links provided by Amazon.
Warm Up
| TRX Exercise | Intervals | TRX Length |
| --- | --- | --- |
| TRX Single Leg Hip Hinge | 2 x 45s | Short |
| TRX Lunge & Chest Fly | 2 x 45s | Mid |
| TRX Side-Cross Side Step | 2 x 45s | Mid |
| TRX Kneeling Hip Push | 2 x 45s | Mid |
Full Body TRX Interval Workout
Use a GymBoss interval timer and set it to 2 sets of 45 seconds,
Cool Down
| TRX Exercise | Intervals | TRX Length |
| --- | --- | --- |
| TRX Hip & Chest Stretch | 2 x 45s | Mid |
| TRX Offset Hip Hinge (Hamstrings) | 2 x 45s | Mid |
| TRX Wide Stance Hip Hinge | 2 x 45s | Mid |
| TRX Glutes Stretch | 2 x 45s | Mid |
Download the TRX Interval Workout Card
Workout card for the 40 Minute TRX Full Body Interval Workout. …
TRX Exercises in this Full Body TRX Interval Workout
TRX Sprinter Start
TRX Squat
TRX Biceps Curl
TRX Step Back Lunge
TRX Crossing Balance lunge
TRX Triceps Kick Back
TRX Preacher Extension (Supinated)
TRX Standing Hip Extension
TRX Kneeling Roll Out
TRX Overhead Squat
Further Resources